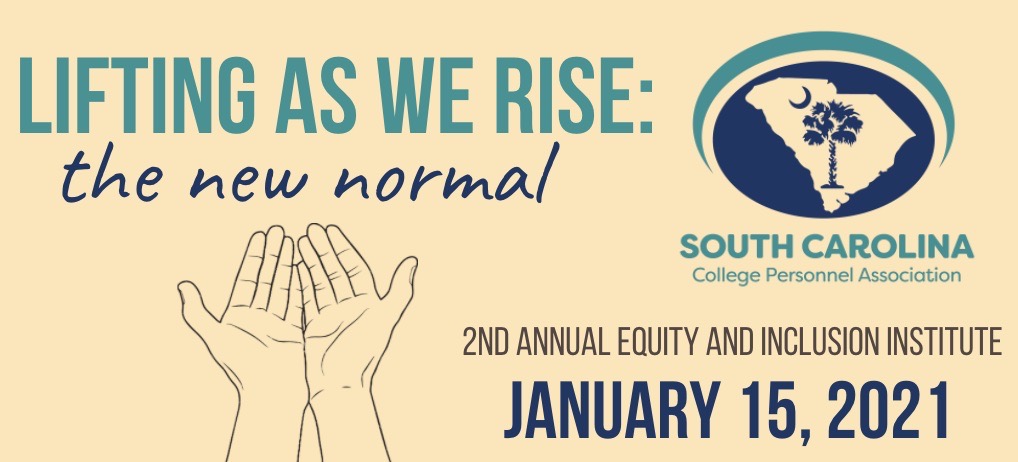 Equity and Inclusion Institute: "Lifting As We Rise: The New Normal"
The purpose of the Equity and Inclusion Institute is to engage participants in critical dialogue and action around topics of equity and inclusion within higher education. We strive to be inclusive and reflective of identities including age, culture, disability/accessibility, race and ethnicity, religion/spirituality and worldview, socioeconomic and veteran status, gender and gender expression, geographic background, sex, nationality, first-generation status, and familial status. Our goal is for participants to apply their learning to enhance their institutional/organizational climates around equity and inclusion.
Date: Friday, January 15, 2021
Time: 9:00 AM – 2:45 PM
Tentative Schedule:
Opening: 9:30AM – 10:00AM
Keynote Speaker: 10:AM – 10:45AM
Break: 10:45AM – 11:00AM
Workshop: 11:00AM – 12:30PM
Lunch Break: 12:30PM – 1:30PM
Caucus: 1:30PM – 2:30PM
Closing: 2:30PM – 2:45PM
Optional Networking/Reflection: 2:45PM -3:45PM
Location: Virtual, zoom link will be sent before event to all registrants.
Registration Link: http://bit.ly/Equity2021
Guest Speaker: Dr. Tierney J. Bates

Dr. Tierney J. Bates, has established himself as speaker, fundraiser, networker, leadership coach, and leading voice for Generation NOW! He has worked in higher education providing leadership, vision, and responsibility for strategic initiatives in diversity & inclusion, black male programs, enrollment services, fundraising, and student affairs. He is also the founder and Chief Engagement Officer of The Bates Group LLC that focuses on higher education consulting, diversity & inclusion workshops, fundraising and speakers.
Dr. Bates has worked in many roles supporting student success, leadership, diversity, equity, and inclusion practices at institutions of higher learning and corporate America in the Knoxville, TN, Nashville, TN, Louisville, KY, and Durham, NC communities. He is the founder of the University of Tennessee Black Issues Conference going on 15 years. His work in higher education has garnered him a Chancellors Citation Award at the University of Tennessee, a Knoxville Business Journal Top 40 under 40 award, Two Provost Faculty Favorite Awards at the University of Louisville, Who's Who in Louisville 2014 and 2016 and the American Express Emerging Leader Award. One of the Founders of the Knoxville Area Urban League Young Professionals, he was named by Urban Voice Magazine 2010 Upcoming Leader and was an Inaugural Nashville New Leaders Council 2013 Fellow. He has also served on 6 major community and company boards like the McKinney Company, Public Building Authority appointed by the Mayor of Knoxville, TN, the Tennessee Theater, National Urban League and United Way. He is a sought after speaker on Leadership development, Black male programs, Diversity and Inclusion or becoming culturally fluent, Fundraising for Diversity, Business Networking, Negotiating Skills in the Job Search, and Students of Color success. Dr. Bates is also a co-author in two different publications on Fundraising for Diversity. Dr. Bates currently is a 2018 Higher Education Leadership Foundation ETA Cohort Fellow and is in the Center for
Minority Serving Institutions Aspiring Leaders Presidential Fellow Program at the University of Pennsylvania.
Dr. Bates is from Cleveland, Ohio and received his Bachelor of Arts in Mass Media Communications with a minor in African-American History from the University of Akron, his Master of Arts in Higher -Education Administration from the University of Akron, and his MBA from Bryan College, and a Doctorate degree from Spalding University. Dr. Bates is a member of Phi Beta Sigma Fraternity, Inc., The National Association of Student Personnel Administrators (NASPA), the American College Personnel Association (ACPA), the National Black MBA Association (NMMBAA), Southern Association of College Student Affairs (SACSA), 100 Black Men of Triangle East and a Prince Hall Mason!
View a PDF version of Dr. Bates' bio here.
For more information, accessibility needs, or dietary restrictions please contact Jerad Green at [email protected].