As a primary resource for student affairs professionals in the state, with a strong commitment to diversity and inclusion, we strive to:
Serve as college student advocates, dedicated to dismantling inequity in academia, research, policies, practices, and interactions on our campuses.
Align SCCPA with the charge from our parent organization, ACPA, in the Strategic Imperative on Racial Justice and Decolonization.
Foster intentional outreach, across the state, to professionals from various identities.
Facilitate equity based programs and initiatives through our professional development series, Equity and Inclusion Institute, and drive-in conferences.
Create space for professionals across the state to deepen their understanding and commitment to racial justice.
Seek guidance and recommendations from our membership to do this work better and ensure we are meeting the needs of our constituents.
Continue our efforts to provide education and advocacy by creating a page on our website to share resources, related upcoming events, and other contributions. We will provide more information in the coming weeks.
We look forward to working in coalition with our colleagues, leaders, and students.
Read the full SCCPA Statement of Solidarity with Black Lives sent to our membership here.
Recent Events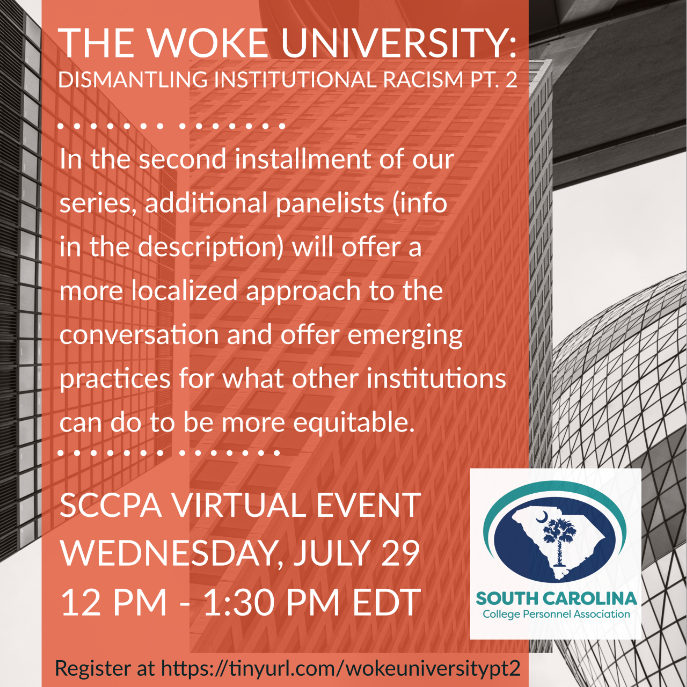 Session Recording: The Woke University: Dismantling Institutional Racism Pt. 2
Wednesday, July 29, 2020: This session, we will be joined by Altheia Richardson, Assistant Vice President for Strategic Diversity Leadership and Chief Gregory Mullen, Associate Vice President for Public Safety and Chief of Police to hear the work Clemson is doing to dismantle institutional racism and advance diversity and inclusion on campus. The panel will offer a more localized approach to the conversation and offer emerging practices for what other institutions can do to be more equitable.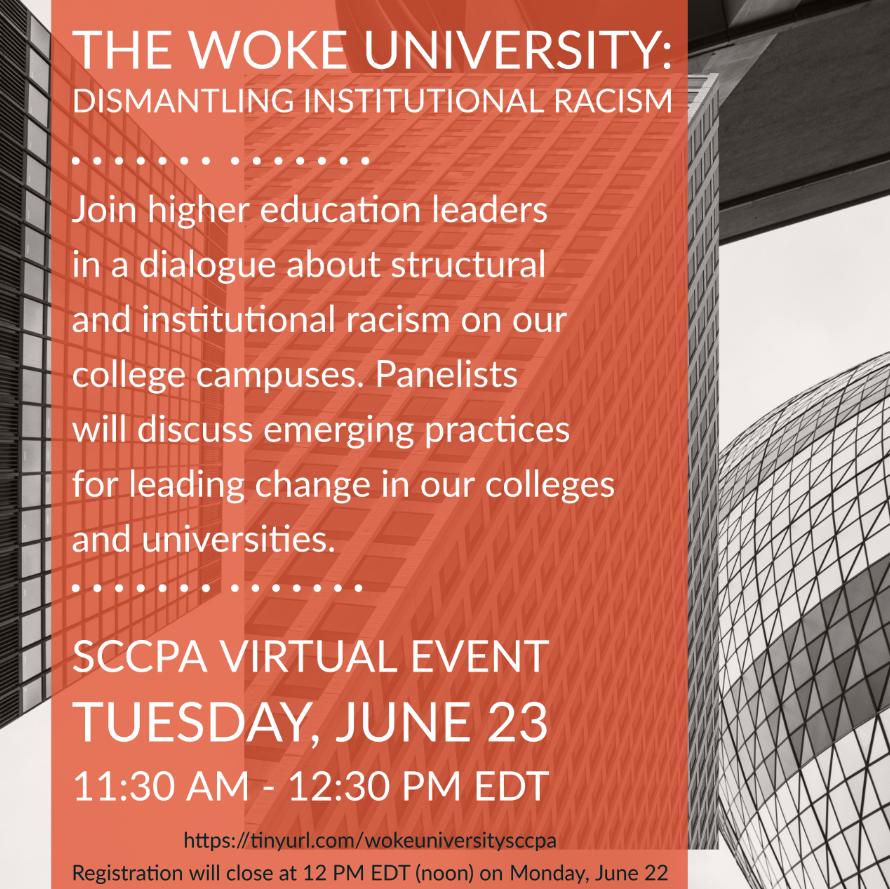 Session Recording: The Woke University: Dismantling Institutional Racism
Tuesday, June 2, 2020: Join higher education leaders in a dialogue about structural and institutional racism on our college campuses. Panelists will discuss emerging practices for leading change in our colleges and universities.