In honor of Pride Month and recognition of our LGBTQQIP2SAA SCCPA community, a virtual PRIDE happy hour occurred on Thursday, June 25. We had an opportunity to network and fellowship with SCCPA colleagues by co-creating a space to recognize, support and uplift our LGBTQQIP2SAA community. All SCCPA members were welcome and encouraged to attend and can now view the recording here.
Viewers should recognize and respect that we held this space to celebrate and honor our past, present and future LGBTQQIP2SAA colleagues.

Navigating the Past, Charting the Future
March 11th-13th, 2020  |  Embassy Suites of Myrtle Beach, Myrtle Beach, SC
Monday, March 9, 2020 Attendee Email
In 1970 a group of college personnel came together to host the very first conference in South Carolina focused on "Future Developments In Higher Education." Mr. M. Hurst Marshall, Administrative Assistant to the Commissioner of Higher Education, delivered the keynote address and some of the recommendations to be made to the state legislatures were: that the College of Charleston become a state supported institution and Winthrop College admit males. At that same meeting SCCPA president Clarice Johnson of Presbyterian College conducted a brief business meeting and it was decided that a fall conference would be held in Columbia. Susan Delany gave the treasurer's report, and SCCPA had a healthy checking account balance of $142.60!
This forward thinking group of individuals intuitively knew that much change was to be expected in higher education and they wanted to be advocates for the students in their institutions. And they were right, much has changed in the past 50 years of higher education in South Carolina. While much has been learned during the past 50 years, there is value in examining our past as a way of informing our future.
Help us celebrate those tireless colleagues that came before us and help us celebrate the very association that provided the platform for bringing college personnel together for professional development, networking opportunities, leadership experience, and information on the latest trends and issues in our field.
Join us March 11th-13th, 2020 for SCCPA's 50th Anniversary Conference. The conference theme, Navigating the Past, Charting the Future, pays tribute not only to the hard work of so many professionals over the last 50 years, but also sets the tone for how we can move forward together. See you at the beach!
PDF guide located here.
Educational Sessions
You can find the complete educational session schedule and individual program descriptions here.
Spring 2019 Drive-In Conference
Friday, April 12, 2019
8:00am-3:30pm
Tri-County Technical College
Coffee & Conversation:

Food Insecurity in Higher Education
SCCPA invites you to participate in our virtual Coffee and Conversation event! Participants will engage in an online discussion using GoToWebinar.
Learn more about what institutions are doing to address food insecurity on their campuses.
Friday, March 29th
11:00am – 12:30pm
Online discussion via GoToWebinar (Link provided upon registration)
Past Professional Development Events
 Equity and Inclusion Institute: Breaking the Barrier 
Guest Speaker: Bryant Smith
Bryant K. Smith is a man with a vision. He is an expert in identifying, cultivating and maximizing human potential. For more than two decades Bryant's work has been at the forefront of assisting business, athletic, and educational institutions recruit train and retain top talent. His inspirational keynotes, engaging seminars, and insightful coaching deliver measurable results, improve communication and performance and changes lives for the better.
Bryant is a former student leader, a former Greek advisor, as well as a founding board member of the Palmetto Team Youth Association, founder and creator of "Life Station" male development seminar and "The Remix Hip Hop Leadership Institute". He is a distinguished faculty member for the  "Am I My Brothers Keeper?" annual conference and is recognized across the country as an expert in leadership and diversity training, student success, male development, and personal empowerment.
For more information about Bryant and his work go to http://Smithcan.com He is Bryant K. Smith, "The Human Potential Specialist".
 Equity and Inclusion Institute: Breaking the Barrier
The purpose of the Equity and Inclusion Institute is to engage participants in critical dialogue and action around topics of equity and inclusion within higher education. We strive to be inclusive and reflective of identities including age, culture, disability/accessibility, race and ethnicity, religion/spirituality and worldview, socioeconomic and veteran status, gender and gender expression, geographic background, sex, nationality, first-generation status, and familial status. Our goal is for participants to apply their learning to enhance their institutional/organizational climates around equity and inclusion.
DATE: Friday, January 11, 2019
Registration begins at 9:00 a.m.
LOCATION: OLLI Building Clemson (100 Thomas Green Blvd, Clemson, SC 29631)
Apply by Thursday, January 3, 2019
Registration Link: https://tinyurl.com/equity-inclusion
Hotel Information:
The Inn at Patrick Square
115 Market St.
Clemson, SC 29631
(864) 643-0600

This hotel is conveniently located down the street from the OLLI Building (conference location), 7 minutes from Clemson's main campus, and has quick access to HWY 123.
Located in Patrick Square, which includes dining, shopping, and other local attractions
Amenities: Free parking, complimentary high-speed Internet
Clemson Rate (Hotel only available Thursday night)

King Bed: $125.00/night
King Deluxe w/ Sofa: $135.00/night
Double Queen: $135/night
King Suite: $189.00/night

Booking Code: 10064 (web registration)

The James F. Martin Inn
  240 Madren Center Dr.
Clemson, SC 29634
(864) 654-9020

This hotel is located approximately 10 minutes from the OLLI Building (conference location) and less than 5 minutes from Clemson's main campus
Amenities: Free parking, fitness studio, 18-hole championship Walker Golf Course, Courtesy dock on Hartwell Lake, access to dining

Standard Double Queen: $125/night
Double Queen Suite: $125/night

Booking Code: CCI-GF20668  (must call in to book)
For more information, please contact Jerad Green at [email protected]
2018 Annual SACSA Conference with NASPA Region III and SCCPA
November 3-5, 2018
Myrtle Beach, South Carolina
Join the 2018 Annual SACSA Conference with NASPA Region III and SCCPA in Myrtle Beach, South Carolina from November 3-5, 2018. This year's theme is "Building ways to Educate, Advocate, Cultivate, and Heighten our purpose in Student Affairs."
To meet us at the beach, register here: https://www.sacsa.org/page/ConfRegistration
2018 Spring Drive-In Conference
Friday, April 13, 2018
College of Charleston Low Country Graduate Center
"An open society depends on liberal education, and the whole enterprise of liberal education is founded on the principle of free speech…" American Civil Liberties Union
Higher Education campuses have always been venues for growth, learning, social discourse, and expanding thought. Now, more than ever, this proves to be the case. But what if the opinions of others challenge the values of our institution or our own personal values? Most, if not all of us, at some point have been faced with an issue on our campuses that challenges our thinking. There is always a point and counterpoint to be delivered. Some points may be more palatable than others, but facing the uncomfortable issues is what helps us to grow as a campus community.
It's with this in mind, SCCPA invites you to attend our Spring 2018 Conference, "We the People, Facing a Climate of Change on Campus". The conference is set for April 13th, and the College of Charleston Low country Graduate Center in Charleston, SC.
In this climate of campus change, we must strive to ensure that all voices can be heard; and, that we are an informed and invested part of the dialogue. See you there!
2017 Fall Drive-In Conference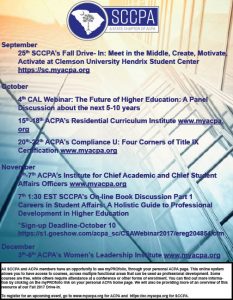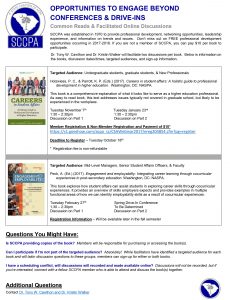 The fall Drive-In Conference was held on September 25, 2017, at Clemson University. Each year campus communities grow more and more diverse, providing a college experience and creating a campus community that is increasingly more brilliant and vibrant.  This drive-in conference was designed for participants to learn and share best practices for meeting stakeholders in the middle – by providing opportunity to motivate and propel us all into action.  All professionals and graduate students, from all experience levels and backgrounds, were invited to meet in the middle and join the conversations at the fall drive-in conference. We had a great turn out of 144 attendees. For a visual recap of the conference, please visit the SCCPA Facebook page.
"Coffee and Conversation" Series
These were FREE, local, half-day professional development events. The purpose of Coffee and Conversation is to bring colleagues together to discuss relevant issues within Higher Education and to build professional networks across the state of South Carolina. Haven't seen one in your region? Be on the lookout for future dates.
Tuesday, March 27, 2018
Join SCCPA for Coffee and Conversation on March 27, 2018 at the Breed Leadership Center at Columbia College from 10 a.m. to 1 p.m! Attendees will engage with a panel discussing Women in Leadership in Higher Education. Panel participants are:
Teresa Johnson Ramey, VP for Student Affairs and Dean of Students at Francis Marion University

Dr. Almeda R. Jacks, VP for Student Affairs at Clemson University

Krista L. Newkirk, J.D., President at Converse College

Melissia Brannen, Assistant Dean of Students and Director of Multicultural Affairs and Community Resources at Columbia College

Carolyn R. Snell, Assistant to the Vice President for Student Development and Services and Director of Career Development at Claflin University
To register, please contact Anna Copeland at [email protected] by Tuesday, March 20, 2018
Cost: Cash (please bring exact change) or check only. Members – $5 and Nonmembers – $10
2017 Spring Drive-In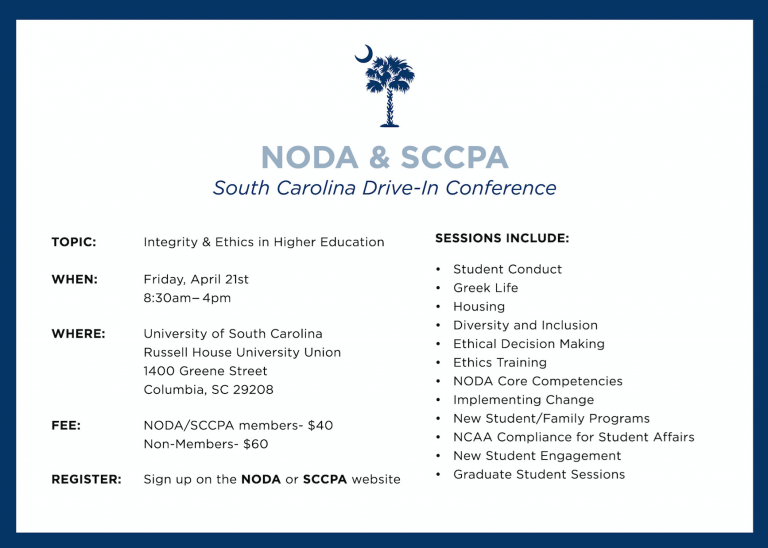 For the 2017 Spring Drive-In, SCCPA partnered with the South Carolina Chapter of NODA (Association for Orientation, Transition, Retention in Higher Education) to co-sponsor the Drive-In on April 21, 2017. Sessions and speakers focused on the importance of integrity and ethics in higher education. Sessions varied and appealed to graduate students, new professionals and seasoned professionals.
2016 Fall Conference

The 2016 Annual SCCPA Fall Conference was held in Charleston, SC on October 19-21, 2016.
2016 Spring Drive-In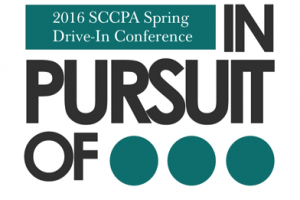 The 2016 Spring Drive-In Conference was held April 8th, 2016 at Coastal Carolina University in Conway, SC. This one-day conference focused on new and mid-level professionals in pursuit of enlightening educational sessions and conversations in regards to current topics and issues in student affairs.
A CSAO Summit was also hosted by the SCCPA Presidents during the morning program. The Summit allowed for networking with other CSAOs and engagement in roundtable discussions about CSAO's interactions with relevant topics and issues in our profession.
2015 Fall Conference
The 2015 SCCPA Fall Conference was hosted in partnership with SACSA and NASPA Region III. This conference was held in Greenville, SC, on October 31, 2015 through November 2, 2015.