Upcoming Professional Development Events
"Coffee and Conversation" Series
Please consider joining us for one of these FREE, local, half-day professional development events. The purpose of Coffee and Conversation is to bring colleagues together to discuss relevant issues within Higher Education and to build professional networks across the state of South Carolina. Haven't seen one in your region? Be on the lookout for future dates. We have plans to host events in each part of the state throughout the year.
---
Past Professional Development Programs
2017 Spring Drive-In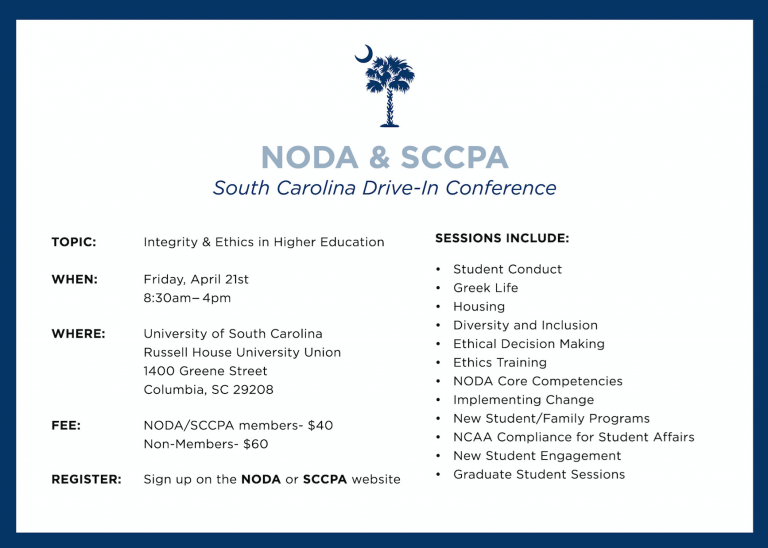 We are excited to announce that SCCPA has partnered with the South Carolina Chapter of NODA (Association for Orientation, Transition, Retention in Higher Education) to co-sponsor a Spring Drive-In on April 21, 2017. Sessions and speakers will focus on importance of integrity and ethics in higher education. Sessions will be varied and will appeal to grad students, new professionals and seasoned professionals. We hope that you will choose to join us for this one-day professional development opportunity.
Priority registration ends on April 9th.
For more information on the Drive-In schedule and to register for this event click here.
SCCPA members should register through the SCCPA website and should use the same email address that is on file with their membership. Individuals that desire to register, but are not currently members of either SCCPA or NODA, are welcome to register using the SCCPA website.

2016 Annual SCCPA Fall Conference
Charleston South Carolina
October 19-21, 2016
 Low Country Graduate Center  and at Hyatt Place Airport/Convention Center

Conference Registration is now live.
SCCPA Member Registration Rates
Undergraduate Student: $75
Graduate Student: $100 
Administrative Professionals: $110 
Professional/Faculty: $150
Conference Schedule
The Fall 2016 conference will start on the morning of Thursday, October 20, 2016. For attendees arriving Wednesday, October 19, there will be a reception hosted by the SCCPA Board and Conference Committee at 8pm on the evening of 10/19. Conference attendees and their guests are welcome to attend this reception.
Conference Location
Low Country Graduate Center
3800 Paramount Drive
North Charleston, SC
Hotel Information
Hyatt Place Airport/ Convention Center (3 miles from north campus) 3234 West Montague Avenue North Charleston, South Carolina, USA 29418
Reservations: http://charlestonairport.place.hyatt.com/chszcscpa2016
Hotel Cost and Amenities
$135/night King Single; $139/ night Queen Double
Complimentary breakfast; Starbucks coffee; Snack Bar; indoor heated pool; fitness center;
Conference Committee
Conference Chair: Diane Cumbie, cumbied@cofc.edu
Vice-Chair, Education Sessions Co-Chair: Trianne Smith, trianns@clemson.edu
Education Sessions Co-Chair: Kathy Hennigan, kathy.hennigan@converse.edu
Registration Chair: George Williams, williamsg@citadel.edu
Marketing Chair: Dylan Mazelis, mazelisdj@cofc.edu
---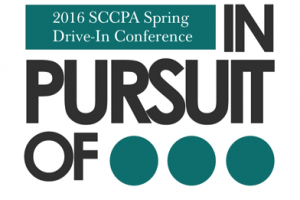 Spring Drive-In 2016
Join us for our 2016 Spring Drive-In Conference held April 8th, 2016 at Coastal Carolina University in Conway, SC. This one-day conference will focus on new and mid-level professionals in pursuit of enlightening educational sessions and conversations in regards to current topics and issues in student affairs.
Are you a CSAO? Consider attending the CSAO Summit hosted by the SCCPA Presidents during the morning program! Network with other CSAOs and participate in roundtable discussions about CSAO's interactions with relevant topics and issues in our profession!
Conference Committee
Tim Jared, Conference Chair tjared@tctc.edu
Trianne Smith, Vice Chair, trianns@clemson.edu
Daphnie Glenn, Registration Chair, dglenn@uscupstate.edu
Diane Cumbie, Education Sessions Chair cumbied@cofc.edu
Allen Lollis, Marketing Chair, lollisja@wofford.edu
---
Fall Conference 2015
SCCPA Fall Conference with SACSA and NASPA Region III

Dates: October 31, 2015 – November 2, 2015
Location: Greenville, SC