Upcoming Professional Development Events
2018 Annual SACSA Conference with NASPA Region III and SCCPA
November 3-5, 2018
Myrtle Beach, South Carolina
Join the 2018 Annual SACSA Conference with NASPA Region III and SCCPA in Myrtle Beach, South Carolina from November 3-5, 2018. This year's theme is "Building ways to Educate, Advocate, Cultivate, and Heighten our purpose in Student Affairs."
To meet us at the beach, register here: https://www.sacsa.org/page/ConfRegistration
---
Past Professional Development Events
2018 Spring Drive-In Conference
Friday, April 13, 2018
College of Charleston Low Country Graduate Center
"An open society depends on liberal education, and the whole enterprise of liberal education is founded on the principle of free speech…" American Civil Liberties Union
Higher Education campuses have always been venues for growth, learning, social discourse, and expanding thought. Now, more than ever, this proves to be the case. But what if the opinions of others challenge the values of our institution or our own personal values? Most, if not all of us, at some point have been faced with an issue on our campuses that challenges our thinking. There is always a point and counterpoint to be delivered. Some points may be more palatable than others, but facing the uncomfortable issues is what helps us to grow as a campus community.
It's with this in mind, SCCPA invites you to attend our Spring 2018 Conference, "We the People, Facing a Climate of Change on Campus". The conference is set for April 13th, and the College of Charleston Low country Graduate Center in Charleston, SC.
In this climate of campus change, we must strive to ensure that all voices can be heard; and, that we are an informed and invested part of the dialogue. See you there!
2017 Fall Drive-In Conference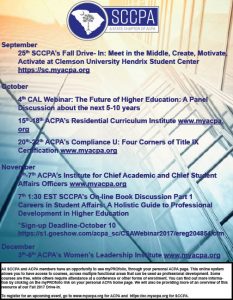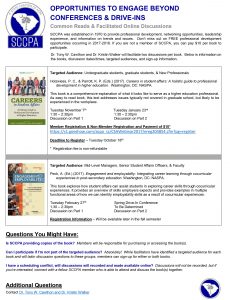 The fall Drive-In Conference was held on September 25, 2017, at Clemson University. Each year campus communities grow more and more diverse, providing a college experience and creating a campus community that is increasingly more brilliant and vibrant.  This drive-in conference was designed for participants to learn and share best practices for meeting stakeholders in the middle – by providing opportunity to motivate and propel us all into action.  All professionals and graduate students, from all experience levels and backgrounds, were invited to meet in the middle and join the conversations at the fall drive-in conference. We had a great turn out of 144 attendees. For a visual recap of the conference, please visit the SCCPA Facebook page.
"Coffee and Conversation" Series
These were FREE, local, half-day professional development events. The purpose of Coffee and Conversation is to bring colleagues together to discuss relevant issues within Higher Education and to build professional networks across the state of South Carolina. Haven't seen one in your region? Be on the lookout for future dates.
Tuesday, March 27, 2018
Join SCCPA for Coffee and Conversation on March 27, 2018 at the Breed Leadership Center at Columbia College from 10 a.m. to 1 p.m! Attendees will engage with a panel discussing Women in Leadership in Higher Education. Panel participants are:
Teresa Johnson Ramey, VP for Student Affairs and Dean of Students at Francis Marion University

Dr. Almeda R. Jacks, VP for Student Affairs at Clemson University

Krista L. Newkirk, J.D., President at Converse College

Melissia Brannen, Assistant Dean of Students and Director of Multicultural Affairs and Community Resources at Columbia College

Carolyn R. Snell, Assistant to the Vice President for Student Development and Services and Director of Career Development at Claflin University
To register, please contact Anna Copeland at southcarolina@acpa.nche.edu by Tuesday, March 20, 2018
Cost: Cash (please bring exact change) or check only. Members – $5 and Nonmembers – $10
2017 Spring Drive-In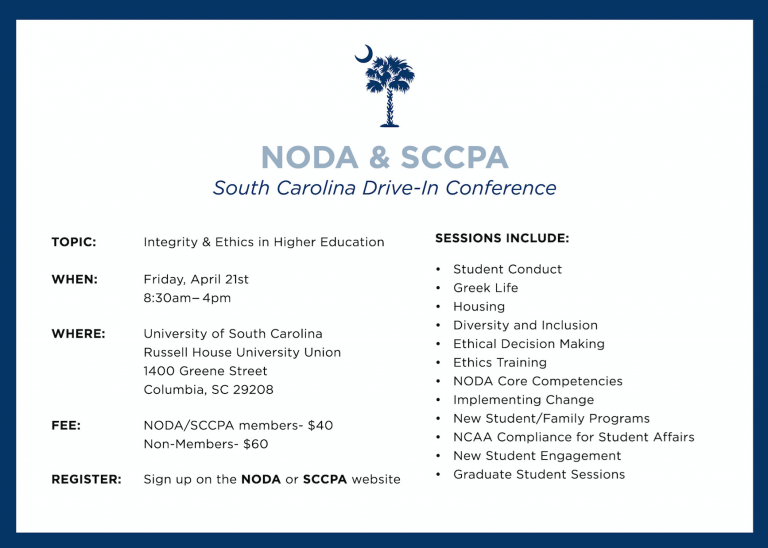 For the 2017 Spring Drive-In, SCCPA partnered with the South Carolina Chapter of NODA (Association for Orientation, Transition, Retention in Higher Education) to co-sponsor the Drive-In on April 21, 2017. Sessions and speakers focused on the importance of integrity and ethics in higher education. Sessions varied and appealed to graduate students, new professionals and seasoned professionals.
2016 Fall Conference

The 2016 Annual SCCPA Fall Conference was held in Charleston, SC on October 19-21, 2016.
2016 Spring Drive-In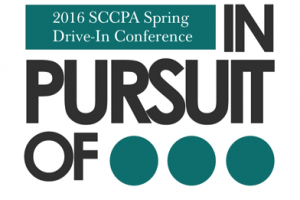 The 2016 Spring Drive-In Conference was held April 8th, 2016 at Coastal Carolina University in Conway, SC. This one-day conference focused on new and mid-level professionals in pursuit of enlightening educational sessions and conversations in regards to current topics and issues in student affairs.
A CSAO Summit was also hosted by the SCCPA Presidents during the morning program. The Summit allowed for networking with other CSAOs and engagement in roundtable discussions about CSAO's interactions with relevant topics and issues in our profession.
2015 Fall Conference
The 2015 SCCPA Fall Conference was hosted in partnership with SACSA and NASPA Region III. This conference was held in Greenville, SC, on October 31, 2015 through November 2, 2015.